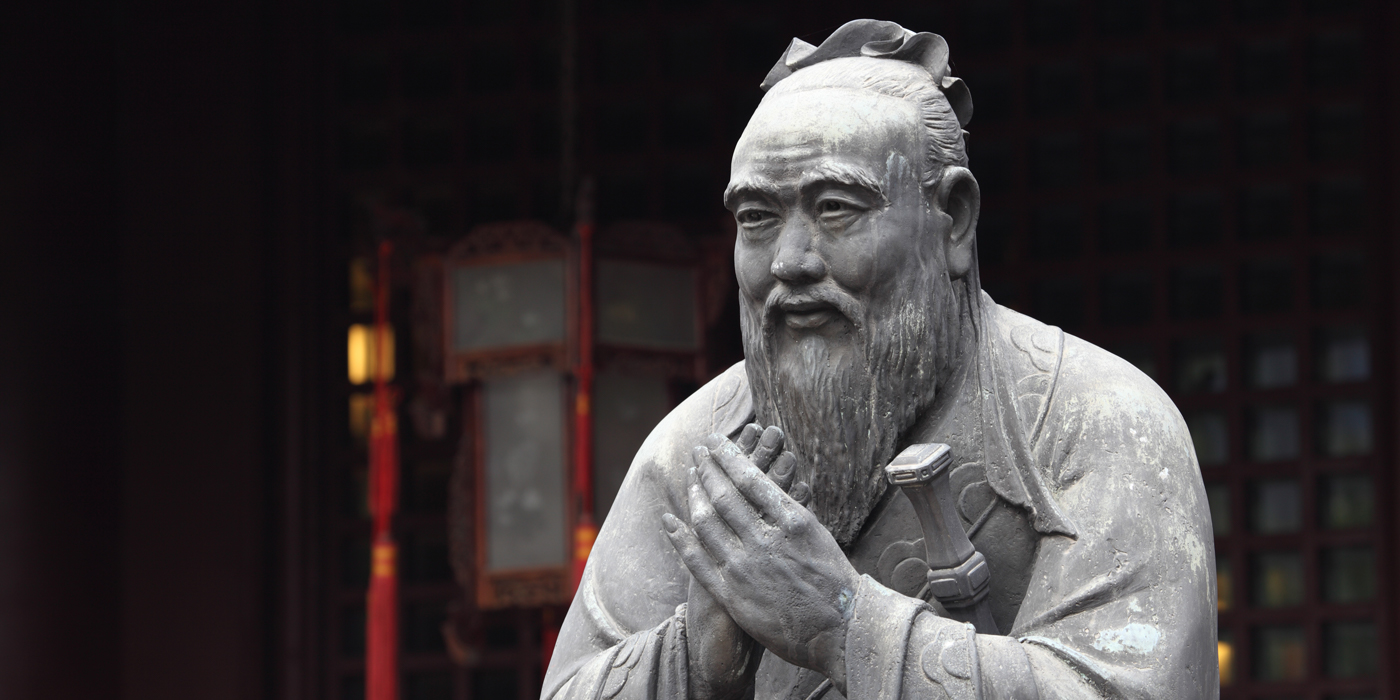 Repertoire selection is the most important job of any director. Great repertoire can culminate and demonstrate of all of the learning that has taken place during rehearsals. It should showcase the strengths of the ensemble and challenge the players to grow in areas where they may be less comfortable. Programs should be enjoyable for the students to play and entertaining for an audience to listen to. Concert programming is a delicate balancing act.
It is the nature of philosophy to ruminate over challenges, so I consulted a few great philosophers—some ancient, some modern. It is a safe bet that the sources below had no idea that their wisdom actually referred to jazz repertoire selection. Such is the nature of genius.
"Study the past if you would define the future."  – Confucius
Jazz history is rich, yet still very young. Even though the music is ever-evolving and changing, it is important for students to develop a full understanding of what they are doing. Music from different periods requires different stylistic interpretations and different technical demands.
Performing historical repertoire also presents the possibility of opening the curriculum to look at the cultural and societal contexts of the time. The role of music in any culture cannot be substituted with anything else. Our students must see those connections and learn from them.
"Always leave them wanting more." – P.T. Barnum
When considering your concert program, be aware of the clock, the attention span of your audience, and the endurance and level of your players. When students are working very hard, there is a temptation to showcase everything that they do, and to pack everything possible into a performance. Attention spans, however, are at historic lows, and most audiences do not wish to sit through a three-hour extravaganza.
Along these same lines, be careful programming the right difficulty level of material for your jazz ensemble. Programming some music that is slightly over their heads is a good growth opportunity. Programming a set of original Stan Kenton brass features for middle school jazz ensemble is a recipe for disaster. Music that is less demanding technically can be as musically demanding as you deem it to be.
A good balance of difficult and demanding—along with easier and more fun—is a good mix.
"You can't always get what you want." – Mick Jagger
Students (and parents) often want to play the latest pop tunes, and these often manifest themselves in the jazz ensemble program. Many students (and parents) are more than eager to offer suggestions for what to play. While it is important to consider all suggestions, the final decision rests with the director.
Playing something from the current pop charts is not the worst idea. Look for arrangements that are well scored and offer everyone in the band something interesting to play (so says the trombone player very used to playing whole notes!) Familiar material can help build a relationship with your audience and may help introduce them to the many other facets of the jazz ensemble.
When student suggestions are turned down, make it an opportunity for dialog and discussion. Share with the students the reasoning behind your decision. Invite their feedback and listen carefully. They will appreciate being heard, and I guarantee you will learn something in the process, too.
"Know how to listen, and you will profit from even those who talk badly." – Plutarch
Jazz is an aural tradition and has been passed down not by pencil and paper but by ear. The early jazz bands played everything entirely by ear. Riffs were played by someone, picked up and changed into something else, and forged over countless one-nighters. This process of learning music most certainly takes longer, but the benefits pay dividends far beyond the performance. Music learned by ear is internalized and is played with a freedom that we simply cannot get when reading off a page.
Take a simple riff tune (C-Jam Blues, Sonnymoon for Two, or Bag's Groove will get you started) or even better—have the students create something. Blues is a great place to start, but even chord progressions and different sections of tunes can be created this way. The process can be messy, but the results are more than worth it.
"Mean a thing it does not, if that swing it ain't got." – Yoda
Swing is the language of jazz. Even if it is not as much a part of popular culture as it once was, learning to play swing music needs to be integral in every jazz performance. Swing is a part of our American musical vernacular. It is a part of our history. Students have a right to know that history and to be connected to it. It is our responsibility as teachers to make sure they are exposed to it.
It is a wonderful gift to have the many musical styles that we have available to us. Music is living, breathing, and ever-growing. That said, swing is the root of that growth in jazz, and students need it just like the air that they breathe.
Final Philosophical Thoughts
Studying jazz history offers students an opportunity to recognize how greatness is built by people "standing on the shoulders of those who came before." May the great philosophers guide you in your music selection and help you ascend to the next level of success with your students.